Countless wreaths will be laid at cenotaphs big and small across Canada on Remembrance Day. This is the story of one of the veterans performing that solemn task, Mark Goldade, CD, a 14-year veteran of the Canadian Forces. Goldade is only one of Canada's veterans who work for Coldwell Banker. Their record of service merits attention and gratitude throughout the year, but especially on Remembrance Day. We thank each of them for their service. They each have compelling stories. Goldade's, presented here, is one. Lest we forget.  
---
Unexpectedly, Mark Goldade found himself quite alive in the middle of a canola field in southern Alberta one afternoon. His black and green jumpsuit was smeared oily yellow. His pulse rate was coming down. Right there, he decided to enlist with the Canadian Forces, and to serve his country.  
Goldade, then a parachute rigger working on contract with a company that trained British Army skydivers, had just survived what's called a line-over parachute malfunction.  
"I was the guy with a camera on my head filming a tandem jump," Goldade said. "At 5,000 feet, I get the signal that the guy is going to open his parachute, so I fly away and get out of his way." 
At 3,000 feet, Goldade had tried to deploy his own parachute.
Nothing happened. 
With no main parachute, he was free-falling at one thousand feet every five seconds. At 2,000 feet, it was no longer an option to try to get the main chute to deploy. He cut it away. At 1,200 feet, he opened his reserve parachute. It sounded like thunder. 
"My heart was in my throat," he said.
Goldade came down in the canola field, nowhere near the landing target. He could see the plane above doing circles, trying to find him, getting his location to a rescue crew. The next chapter of his life came into focus.
"I'm on a contract. I don't have healthcare. I don't have life insurance. I'm living, eating and working out with these guys at the base. I admire what they're doing. I'm going to join them. I went to the recruiting centre and signed the papers."
That was 2007.
With that signature, Mark Goldade would see much of the earth in the service of his country. This Remembrance Day, his last in uniform as a serving member, Goldade, wearing his General Service Medal- Expeditionary (GSM-EXP) and his Canadian Decoration (CD) medal, will stand in Bruce Park in Winnipeg, MB. As the president of the Manitoba chapter for United Nations NATO veterans, he will lay a wreath to honour those veterans.
"It is an opportunity to remember those who have served and fought to provide us with the country that we have now," he said.  
Service highlights  
Goldade's decision to serve meant a life on the go. He did basic training at CFB Borden in Ontario. Occupational trades training happened at the Nav Canada facility in Cornwall, ON. His was then posted to North Bay, ON. From there, he took part in exercises at Hickham Air Force Base in Hawaii and at CFB Cold Lake, AB. He then served as a tactical data link operator (TDL-Op) in Air Task Force Iraq from 2015 to 2016.  
"Basically, that means I created, using cryptography, a Wi-Fi in the sky that allowed aircraft to talk to the ground and to naval assets so we could pass tactical information back and forth securely," he said.  
After Air Task Force Iraq, it was back to Cold Lake as an IC (Supervisor) of security for Operation Maple Flag, the annual air combat exercises for allied pilots around the world. Newly promoted Master Cpl. Mark Goldade was then posted to Clear Space Force Station in Alaska for work on ground-based space radar and then onto the Combined Space Operations Center at Vandenberg Space Force Base in California.  
"I got to be involved in a Delta IV rocket launch and a couple Falcon 9 launches, some pretty interesting stuff," he said.  
Meaning of service  
For Goldade, as for all veterans, the word "service" is a singular word. Yes, it's a common word used in many aspects of life—business (including real estate), bureaucracy, dining and even sports (think tennis). For those who have put on a uniform, though, the word service carries a profound meaning, as well.  
"For a Canadian Forces member, to serve means that we are willing, with no questions asked, to give up to and including our life to protect our country," he said. "Nobody else in this country does that."
It is in his blood. Goldade's maternal great uncle Bob died in the Second World War Battle of Ravenna in Italy. His grandfather saw action at Monte Cassino. Two other great uncles also served in the Italian campaign.
Soldier in arm 
Goldade wears his heart on his sleeve.  
He has inscribed his own bodily commitment to his country—and made a record of adventures and friendships experienced along the way—in a unique fashion. His left arm is sleeved with tattoos that tell the story of his service.  
Take a look: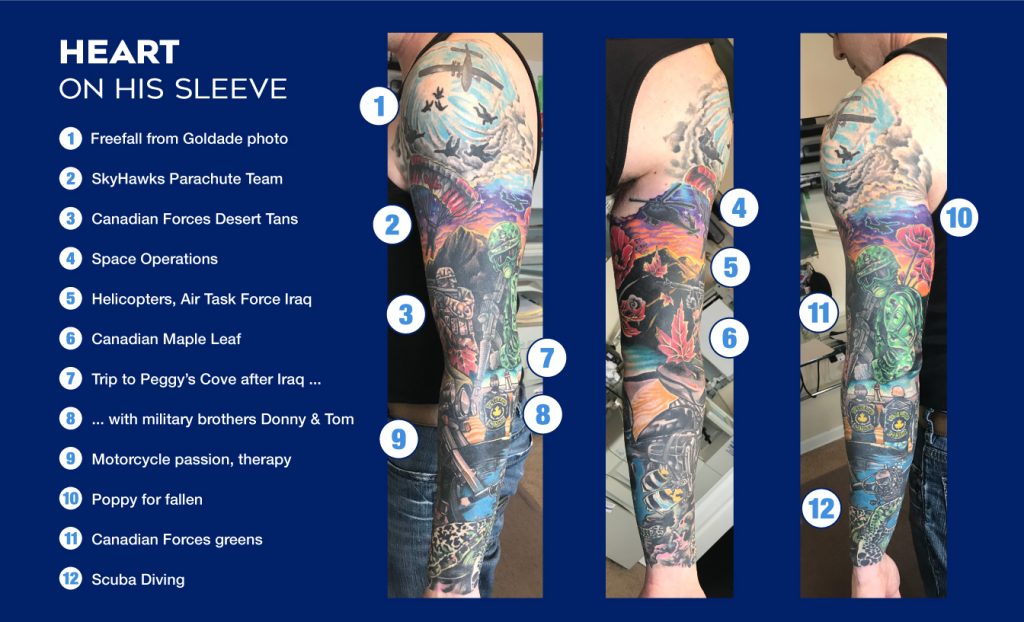 Coldwell Banker mentor 
Back in Winnipeg in 2021 and facing the prospect of a medical discharge, Goldade set his sights on the next chapter of his story.  
"It was, quite literally, what can I do? Where can I go?" he remembered. 
Unexpectedly, he found himself one day in the middle of a conversation with a military legend—Honorary Colonel Brigadier-General Eldren Thuen. Thuen had retired from the military and was working as a realtor with Coldwell Banker Preferred Real Estate in Winnipeg.
"He said, 'You know what? Let's have a coffee and we'll talk, and I'll introduce you to [Sales Manager] Greta Torlen,'" said Goldade. "I was not ready for her. What a powerhouse!
The trio sat down and talked shop. They explained the compensation structure and the industry. Thuen offered to mentor Goldade. 
"I did my due diligence, I reached out to other real estate brokerages, but none of them were willing to actually put in the time to coach and mentor," he said. "But Eldren made that commitment. That's why I came to Coldwell Banker."
He got his real estate license in December 2022. 
Military relocations 
 
Goldade is now among the Coldwell Banker network of realtors who, having served in the military or not, specialize in meeting the specialized needs of military relocation clients.  
 
"When you get promoted, you get posted," he explained. "The military doesn't leave you in the same location when you're promoted. You're moved out of your comfort zone."  
 
Military members uprooted and set down in a new community benefit from dealing with a realtor who knows the drill, and who appreciates the time crunch faced by the member and family.
"You've been in a house for, say, three and half years and now you have to list it, sell it, and, during that process, fly to your new location, find a realtor who's ready to go when you hit the ground, someone who knows that you want to look at 12-15 homes on average a day, not to mention the time need to find a school or schools for the kids and to check in with your new unit," he said.  
 
"Maybe, you've got seven days in the end for all of that to happen."
PTSD 
 
Service also informs Goldade's work with The Rolling Barrage, a coast-to-coast motorcycle ride that raises money to combat post-traumatic stress disorder in veterans and first responders across the country. The ride just finished its seventh year. 
 
"It started with three guys going coast to coast after they lost a buddy to PTSD, someone who took their life," said Goldade, who is chief operating officer of the foundation. "Now, an average day is 100 to 150 bikes."  
 
The next ride is scheduled to leave St. John's, NL, on June 28, 2024.
Now serving: Mark's home brew
There is one final, less serious aspect to the service that has inspired and still inspires Mark Goldade: his beer recipe.
Goldade is a home brewer whose Kentish ale recipe (the proportions of barley, hops, yeast and love remain proprietary) has been adopted by One Great City Brewing Co. in Winnipeg and bottled under the "Home is Where the Heart is" label. A portion of the proceeds supports Homes for Heroes Foundation, which combats homelessness experienced by veterans.
The label reads:
"By purchasing this beer, you can feel secure knowing that proceeds will go to those who have given so much."
Goldade said he's lately been dropping into legions around Winnipeg, drumming up orders.
"It will be ready on the shelves and on the taps in Winnipeg for Remembrance Day," he said.
"Remembrance Day is about thanking those who have gone before us, and who sacrificed for us to be where we are."  
Lest we forget.